Pre-fab homes have seen quite the rise in trend and popularity in the past 10-15 years. Economical, sustainable, and customizable all gave clients reasons to jump on board. But what if you do not have a plot of land or completely tearing down your existing home, or what if you are working with limited in space in let's say...your backyard?! This is where the "shedquarter" comes in - a small, usually prefab unit that can be used to any number of dedicated uses.
Many clients come to us with the complaint that they do not have the dedicated space to anything from work to hobbies and some do not even have the space to add something like this. One of the many reasons we love the idea of a shedquarter! Being able to "escape" to a space that is solely devoted to whatever it is you need is ideal. Moving away from sharing the kitchen table, because as we all know that kitchen table is covered less and less by food by more and more papers and junk. And take it from us as small business owners, your productivity (both creatively and economically) increases exponentially when you have a functional dedicated area to any given task. So get on board and check these cool spaces out!
KANGA ROOM SYSTEMS: Based out of Austin, Texas they offer anything from modern to cottage styles and size can range from 8'x8' to 40' in length! "Designing for change" is what they are all about, creating functional and adaptable prefab spaces for any size and budget. Basic packages start around $6000 and upgrades can include porches, kitchenettes and bathrooms.
MODERN SHED: We are all about supporting the small business and this company was started by a husband and wife team in Seattle, WA! And check out their shed-gym, we MIGHT (we said MIGHT) actually dedicate a bit more time to the gym if we had that awesome space! They arrive flat packed and normal installation takes just a few days.
MODERN SPACES: Any company that sells "forts for grown ups" definitely gets our approval. With prefab styles from loft to mid century, they even offer the "tin hut." Currently only available to residents of California (lucky us!).
LOFT CUBE: We just had to include this company that originally designed their spaces for rooftops to obtain a "fusion of light, view, closeness, and individuality." Although perhaps not right for a backyard in Orange County, CA, but we're ready for that special client who is ready to explore with us like this!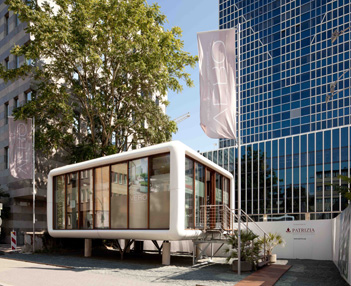 So whether you have the space for a "shedquarter" or not, anyone can utilize the IDEA of the shedquarter and create a dedicated, functional space for you. Of course we at Interior Design Collaborative are here to help you create this space and look forward to collaborating!